About JJUSA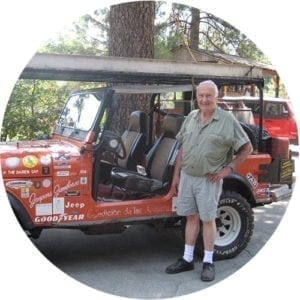 Jeep Jamborees are off-road adventure weekends that bring together the outdoors, down-to-earth people, and their Jeep 4x4s. These off-road treks have a long tradition dating back to 1953 when 4×4 pioneer Mark A. Smith organized the first-ever Jeep Jamboree and voyaged across the Sierra Nevada Mountains by way of the old Rubicon Trail. In 1954, Willys Motors — then manufacturer of Jeep vehicles became involved with the adventure, and Jeep Jamborees have been an off-road tradition ever since.
Off-Road Hall of Fame and the Explorers Club member, Mark A. Smith also led the 1978-79 "Expedicion de las Americas" — a 20,000-mile odyssey from the bottom of South America to the top of North America, crossing the infamous Darien Gap — and headed the 1987 Camel Trophy expedition in Madagascar. After founding Jeep Jamboree USA in 1982, Mark became a Jeep brand consultant and has conducted intensive training for the U.S. Army Special Forces and law-enforcement agencies.
Mark's passing in 2014 was a loss felt deeply by the off-roading community worldwide, and he was honored with tributes both locally and even from the corporate headquarters of the Jeep brand itself. His legacy, however, is carried on by his daughter, Jill, who recently moved into a more philanthropic role to fulfill the family's long-time commitment to causes close to their hearts. A visitor to six of the seven continents, Jill regularly continues her travels to the planet's most remote regions, most often performing volunteer and service work for humanitarian and animal conservation organizations.
Pearse Umlauf
President & CEO
Pearse Umlauf has worked side-by-side with the Smith family to ensure every part of Mark's vision is fulfilled. Umlauf at the helm of the operation is committed to not only seeing Mark's vision for the off-roading community fulfilled in every event they do, but he is devoted to a business that is family-run and continues to seize opportunities for growth and expansion that align with the company's core values.
Pearse has been an integral part of Jeep Jamboree USA for more than 19 years, currently as President and CEO, overseeing the business and day-to-day operations of more than 700 staff and 50+ annual events domestic and internationally. Having begun his off-roading career with Jeep Jamboree USA (JJUSA) as a special events coordinator, Pearse's experience with Camp Jeep events led to his leadership in their company and the growth and offerings.
Throughout his tenure with MASOR and JJUSA, Pearse has overseen the logistical coordination of the Rubicon Trail operations annually, moving 65,000 lbs of supplies via helicopter each season to set up complete camp accommodations. He oversaw the construction of the Quantico Marine Base Severe Off-Road Track, and vehicle testing on the Rubicon Trail aiding in product development for Jeep products for the past 13 years. Most notably in the past couple of years, Pearse led the JJUSA team that spent 45-days in Brazil installing a permanent off-road test/demonstration course for Jeep's South American plant in Pernambuco.
In addition to the day-to-day operations, Pearse oversees the development of a worldwide database of trails around the world and traveled to some of the most remote off-roading areas in Kenya, Tanzania, Morocco, India, Cambodia, Vietnam, Argentina, Chile, Peru and many parts of Europe, in addition to thousands of trails in North America. This extensive database has enabled MASOR and JJUSA to facilitate events for brand/owner loyalty, product launches with automotive media, corporate incentive trips and marketing, advertising, video and photography shoots.
Shawn Gulling
Vice President, Operations/Events
After an introduction to the off-roading industry by working in a four-wheel drive shop directly after high school, Shawn Gulling has spent his 20-year career guiding expeditions on the famed Rubicon Trail, designing and building trails around the country and off-roading on three continents. (North and South America, and Australia.) In 2014 he spent 6-months in Australia consulting to Leo Chrysler/Jeep assisting them with off-road events and laying the groundwork to build the Global Jamboree brand.
Shawn has worked on more than 100 Jeep Jamboree events around the country, in addition to dozens of domestic and international media events where he was an integral part of leading the team, developing and guiding the trails, and assisting photo and video crews throughout the programs. In addition to his career, as an avid off-road enthusiast, Shawn also participated in a two-month, 7,000-mile expedition in South American from Lima, Peru to Ushuaia, Argentina (the southernmost city in the world) as part of the 20th Anniversary of Mark A. Smith's expedition.
Jake Horne
Director of Registration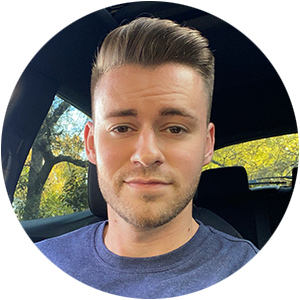 Growing up in Moab, Jake had a very early introduction to the off-roading industry. In addition to working at his family's local Jeep tour and rental business throughout high school, he spent nearly all of his free time exploring the trails around Moab building considerable experience off-roading.
He took a brief hiatus from the industry while studying Criminal Law at Utah Valley University and began working in Section 42 government subsidized property management. During this time Jake was able to assist veterans and individuals suffering from physical and mental illness secure affordable housing.
Shortly thereafter, he transitioned into compliance enforcement and implementation in Nevada's recreational cannabis industry. While managing a team upwards of 20 people, he authored and implemented standard operating procedures that ensured accurate audit and reconciliation methods reporting directly to the Nevada Department of Taxation.
In 2020, Jake returned to his roots and joined JJUSA as the Director of Registration. His high attention to detail, required by previously held positions, is instrumental in the management of upwards of 10,000 participant accounts. While maintaining the day-to-day operations of Registration, Jake also enjoys attending Jamborees throughout the country and interacting with participants on a personal level; sharing the same passion and excitement for the off-roading industry and what our Jeeps are capable of.
Ty Devereaux
Adventure Consultant / Off-Road Specialist
Ty came to JJUSA with a background deeply rooted in the off-road community having co-owned Central 4-Wheel Drive, a company he worked with for 25 years in all manner of roles throughout their California, Oregon and Washington locations. An avid outdoorsman, Ty owns a 2000 Jeep Wrangler (TJ,) and spends his time camping, hiking, and fishing in addition to off-roading. One of his most memorable off-road experiences was re-tracing a portion of the fame "Expedicion de las Americas" in South America with JJUSA vice president, Shawn Gulling.
Jim Horne
Director of Special Operations / Senior Trail Guide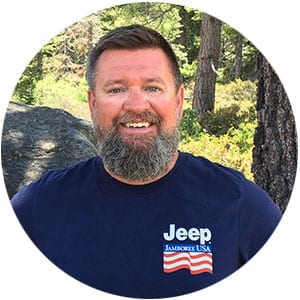 Jim's passion for off-roading began in the 70s when he would watch his father and uncles race Jeeps, and he took that passion and turned it into a career that has led him to his current position as a core team member of Jeep Jamboree USA. He began his early career in the Air Force as a hydraulic specialist on C-5 aircraft, which helped fuel his love for travel in addition to off-roading. After his stint in the Air Force, Jim and his wife moved to Moab, Utah and opened Outlaw Jeep Tours in one of the most famous off-road destinations in the world. Averaging close to 240 trail days every year, Jim guided every trail in Moab from the easiest to most difficult with everything from stock Jeeps to buggies and racecars. In addition to guiding trails and gathering the experience in off-roading, Jim also competed in World Extreme Rock series, raced Dirt Riot, the Ultra4 Western series, and King of the Hammers. His expertise and name in the industry led to work over the years with television channels such as Discovery, History and TLC, as well as multiple episodes of Top Gear. As a major testing ground for vehicles and product, Moab naturally led Jim to associations with some of the top off-road companies in the business, including Jeep Jamboree USA. Beginning in 2009 Jim began working with JJUSA by renting Jeeps and guiding corporate events, and eventually began working with JJUSA full time years later. In his role with JJUSA Jim has become a cornerstone in the team which led to him going to New Zealand to build one the most significant launch programs – the media introduction of the 2018 Jeep Wrangler (JL).
Married to his wife Barb for 27 years, Jim enjoys the spare time he has with his family including his kids, Jake (23) and Kenzie (20), as well as building his own Jeeps and wheeling.
Eric Loewenhagen
Event Staff / Special Projects
Eric's love of Jeeps and off-roading began in 1999 when he attended his first Jeep Jamboree as a passenger. 60 days later his pickup was sold, there was a TJ in his driveway, and he's owned nothing but Jeeps ever since. Eric became a Jeep Jamboree Trail Guide in 2000, two years later becoming a Coordinator, and eventually becoming a member of the Jeep Jamboree Event Staff team. He has an extensive background in information technology, event planning, logistics, and enjoys working with a variety of charitable causes. In 2020, he found a new passion after attending King of the Hammers in 2020, assisting a close friend with an Ultra4 Race Car. Eric has served on the Board of Directors for Oktoberfest USA, Thunder Ride for Juvenile Diabetes, and Restorative Ink. He is the Crew Chief for an Ultra4 4440 race team and his consulting company, Bad Axe Group, provides support and solutions to a broad range of industries.
Rhiannon Murchie
Shipping & Receiving Manager
Rhiannon is based in our Georgetown headquarters and manages the large job of overseeing all of our shipping and receiving. With 30+ of Jamborees around the country taking place week after week, her attention to detail is crucial to ensure all of the materials we need are constantly replenished at events and all the stock is kept up to date so we can offer our Jamboree attendees the best variety. Rhiannon had a passion for off-roading instilled in her from a young age when she was given her first driving lesson at age nine in her uncle's Jeep, which was the same Jeep she had been brought home from the hospital in as an infant. Her longtime love of wheeling has carried into her family and their outdoor activities, which include time at their cabin, camping, boating off-roading and connecting to nature as much as possible.
Shelli Devereaux
Controller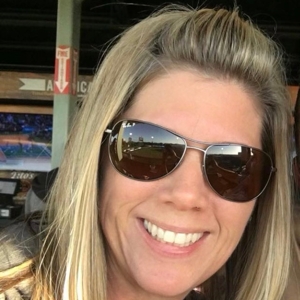 After spending much of her childhood in the outdoors and off-roading with her father Shelli was re-introduced to the sport with the purchase of her first Jeep in 2008. It wasn't long before her Jeep TJ was transformed from her everyday vehicle into a capable and well equipped off road rig. She now spends her summers enjoying the mountains of Lake Tahoe and traversing the famed Rubicon Trail. When she is not spending time outdoors, Shelli oversees finances for several companies, including a body shop that she has co-owned since 2007. As controller for Jeep Jamboree USA Shelli is thrilled to get back to her roots while working alongside others that share her love for off-roading and the outdoors.