Requires 37" tires, front & rear lockers, tow points, gas, transfer case, and rocker skid plates. Any JK with a factory rear axle requires upgraded rear cover and/or glide plate.
Dates
September 11-13, 2024
Location
The Rubicon Trail, California
Included
Private Guides / Meals*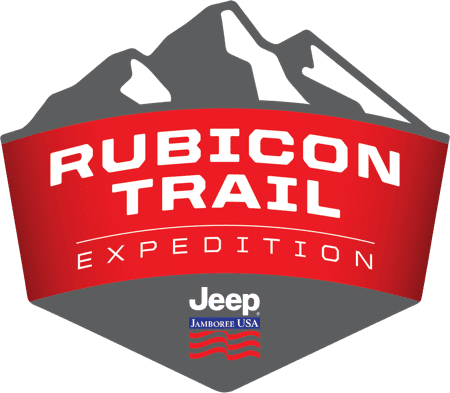 Jeep Jamboree USA is introducing a new private guide service for Jeep owners who want to hone their off-roading skills and experience on the Rubicon Trail with the guides who know it best. The Rubicon Trail Expeditions will be limited-space excursions which offer the opportunity to traverse the Rubicon Trail with our most experienced and knowledgeable trail guides who have spent years becoming authorities on this legendary terrain.
In order to create a truly personal experience, these trips will be limited to a maximum of ten (10) vehicles, which will enable attendees to receive personalized guidance and instruction in a smaller setting. With this more intimate trip, participants will be able to spend time learning how to use their Jeep to traverse the ever-changing landscape of one of the world's most famous trails, while having individualized attention from our expert guides at the helm.
Due to the number of Jeeps and people we are limiting these trips to, you will come away with not only the unique experience of navigating the Rubicon Trail in its entirety, but also leave with valuable knowledge of your vehicle's abilities and features to continue exploring other off-roading adventures.
Participants will be required to use their own Jeep 4×4 (Wranglers and Gladiators ONLY), and be self-sufficient in terms of food, water, camping gear, extra parts, etc. Once you have registered for The Rubicon Trail Expedition, we will send you a recommended packing/gear list for guidance, however you will be responsible for all elements and costs associated.
Please Note: This is not a trip for beginners. All applicants will be screened to ensure their vehicle meets pre-determined requirements.
Itinerary
* for meals included, see below
Wednesday, September 11th – In the morning, join us for registration and breakfast at Jeep Jamboree USA Headquarters. Then we'll depart for Loon Lake and the trailhead. Don't forget to grab your boxed lunch and top off your fuel tank before leaving Georgetown. Let the journey begin on the historic Rubicon Trail! Lunch and scenic stops will be mandated by travel time and weather. Our goal is to camp at Spider Lake, arriving in time to set up camp and enjoy a family style dinner freshly prepared by our team. All plans are subject to change based on trail progress and desires of the group.
Thursday, September 12th – Wake up with the sun, have breakfast, break camp and prepare for another day of adventure as we continue our journey across the Rubicon Trail. We will make our way to historic Rubicon Springs where we will be spending our second night camping.
Friday, September 13th – Wake up with the sun, have breakfast, break camp and prepare for another day of adventure as we complete the Rubicon Trail. We invite you to join us immediately after departing
the trail for a parting lunch reception in Tahoe City on the shores of beautiful Lake Tahoe. Although our adventure stops here, you may want to plan a few extra days to experience all that the Lake Tahoe area has to offer.
Vehicle Requirements
Jeep vehicle models 1996 and older are not permitted to register for the Rubicon Trail Jeep Jamboree. Participants must have a Jeep Wrangler model year 1997 to present or a Jeep Gladiator model year 2020 to present in order to participate in the Rubicon Trail Jeep Jamboree.
All Jeep vehicles shall adhere to the following requirements for the Rubicon Trail Jeep Jamboree.
A minimum of 37" tires. (not to exceed 40")
Front and rear lockers
Properly secured tow points
GMRS radios are required
Skid plates covering the gas tank, transfer case and rocker panels
Any Jeep Wrangler JK Model with a stock factory rear axle is required to install an upgraded rear cover and/or a rear glide plate. The following links show examples of the required equipment.
Registration Fees
Driver: $2495
First Passenger: $625
Each Additional Passenger: $625

Cancellation & Payment Policy
Days prior to trip date
Penalty
Reservation to 30 days
$350
29 days to 15 days
50%
14 days to trip date
100% (NO REFUND)
NO TRANSFERS OR CHANGES (including passengers) 14 days prior to trip date
For Registration Questions
Director of Registration
Jake Horne
jake@jeepjam.com
For Trip Specific Details
Adventure Consultant
Ty Devereaux
ty@jeepjam.com